YOU GUYS! If you haven't yet signed up for Grove Collaborative now is your chance. The new customer offer this month is AMAZING!
We are always trying to cut down on plastic use in our home…when the teenager takes AP Environmental Science you all learn more and want to do better….ha!
Cutting back on single-use plastic is such a simple habit once you get started, and every straw and shopping bag makes a big difference.
Enter my fav Grove Collaborative.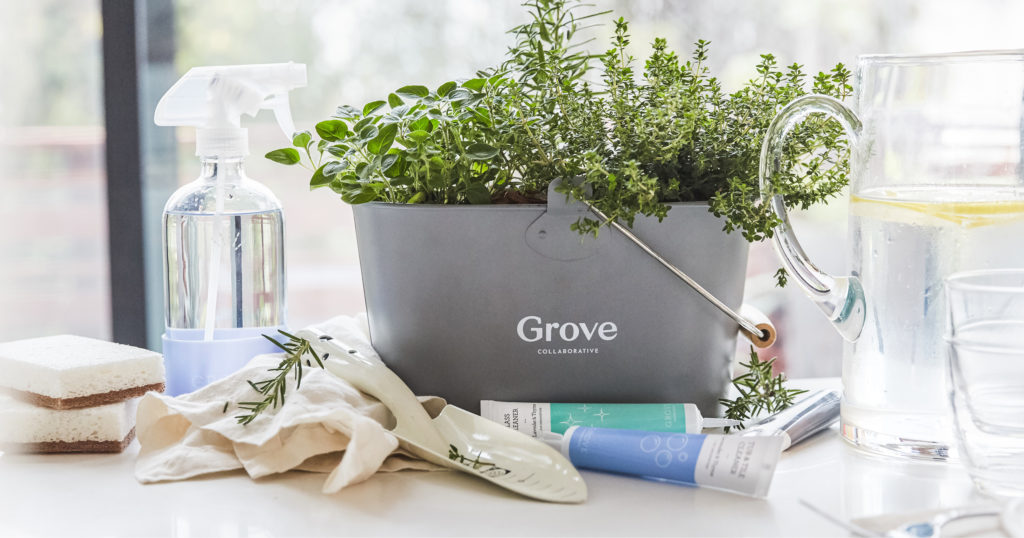 They now have refillable glass bottles for hand soap, dish soap, and household cleaner. Instead of buying a big plastic bottle of cleaning solution, you just dispense the concentrate into the reusable glass spray bottle, add water and shake. A 1-ounce tube makes 16 ounces of cleaner!
Right now, you can try the cleaning concentrates for free with your first order of $20 from Grove Collaborative. Woohoo!!
Here's what you'll get:
Free Grove Collaborative cleaning concentrates (3 pack of all-purpose cleaner, glass cleaner, tub & tile cleaner)
Free Grove Collaborative glass spray bottle
Free Grove Collaborative caddy
Free Grove Collaborative walnut scrubber sponges
Free shipping & free VIP trial
Existing customers will receive a free set of walnut scrubber sponges. Instead of synthetic materials, they're actually made from crushed walnuts and all-natural vegetable cellulose.
AND the bottles are color-coordinated so I know which is which, and the cleaners even come in come in matching scents — lavender & thyme, or orange & rosemary —how cute is that??
You'll also get a free cleaning caddy, which is the perfect size to hold a few bottles of cleaner along and is adorable.
Once you place your order, you'll be signed up for the free 60 day VIP trial. Being a VIP means you'll get free shipping, free gifts, price matching, exclusive sales and personal service.
Sign up for Grove Collaborative here using the link.
Psst… made it this far? I've got another bonus for you: If you spend $39, you'll receive a beautiful stoneware tray for free!