July Grove Offer is Live!
It's no secret that I'm not the most organized person on the planet. This is why I love Grove Collaborative. Not only do I get items shipped directly to me each month on autoship, they also help keep me organized. I'm a total sucker for bins and baskets and anything I can throw things in. I like to be cute and APPEAR organized. So bins are my favorite.
So I'm totally excited to share this free offer with you (every now and then this is a writer's perk, I get access to deals I can pass along to my readers, yay!). Anyway, when you place your first order of $20 from Grove Collaborative using this link you'll get this free caddy filled with Mrs. Meyer's dish soap, hand soap, and lotion — plus free shipping!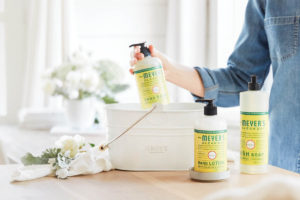 Seriously, I love this caddy. It's so cute in our bathroom filled with all the girl's hair STUFF.
Here are five other creative ways to use your Grove Collaborative caddy: 
1.Mini herb or succulent garden
I think my tallest kiddo is going to do this with my new caddy, my thumb is too brown. But if yours is green, just add a few inches of gravel or pebbles for drainage, then a layer of potting soil, and your plants.  Another benefit of the caddy: The handle makes it easy to carry your plants to the sink for watering!
2. Garden tool organizer
Here's a gardening hack for all my green thumb friends: Turn your Grove caddy into a garden tool organizer! Fill it with a cute pair of gloves, trowel, pruning shears, hand rake, and kneeling board. Easily carry your garden tools around the yard.
3. Hair tool organizer
We've got this one in play. Our remodeled bathroom is super cute but low on storage space. I just stashed all the things that were overtaking the area in the caddy and I look super organized. Ha! We all know the truth. 
4. Pet toy holder
My cats are just as messy as my kids. Fill the caddy with all the toys that are under your feet. The best part is the animals can reach right in and grab them. 
5. Ice chest
This caddy is just the right size to hold ice and a few bottles of wine or lemonade. It's easy to carry outside, and so much cuter than a plastic cooler. 
Here is how to get yours for free!
Sign up for Grove Collaborative here.

 New customers will receive these freebies:

Mrs. Meyer's hand soap
Mrs. Meyer's hand lotion
Mrs. Meyer's dish soap

Grove

 cleaning caddy

To receive this offer, your order needs to be a minimum of $20. Choose the combination of products and scents you love and receive your first box within a few days.

You made it! Click Finish & Pay and place your order.

Existing customers won't miss out. You will receive a free Grove Collaborative scrubber sponge just for ordering through this link.
Tip to save: Once you have submitted your Grove order, you will be signed up for the free 60 day VIP trial. For 60 days, save even more with free shipping, free gifts, price matching, exclusive sales and personal service.