My Favorite Things: Grove Collaborative
In real life, I love to pass along my favorite things and I love to get a deal and share it with my friends. It's just so fun.
Today I get to share one of my favorite things with you right here on the interwebs. It's a little thing called Grove Collaborative and the folks there are making my life so much easier. And this month you can get FREE STUFF just for trying them! I love this awesome company because they committed to bringing you the best products for the environment. Plus their auto-ship keeps this family going because we all know how I am with ordering dishwasher pods.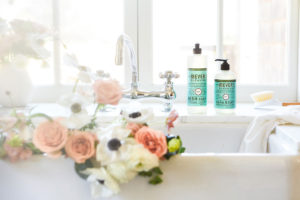 Right now, new customers simply place a $20 order on Grove and get:
Free Mrs. Meyer's hand soap
Free Mrs. Meyer's dish soap
Free Mrs. Meyer's hand lotion
Free Grove Replaceable Head Dish Brush (super useful and looks cute on your counter)
Free Shipping & 60 Day VIP Trial
Existing customers, we haven't forgotten you. Click through my link and you will get free Grove walnut scrubber sponges, which I love.
Also, Mrs. Meyer's is the best smelling natural cleaner out there. My current favorite is Basil…I think it smells like Colors by Benetton. Who remembers that perfume? Anyone? Or am I old?
Just use this link to order! It's that simple!
I'd love to hear how much you love your stuff when you get it!
**FYI we make a little something each time you shop through our link. You won't see many like this from us, but from time to time we will pass along only the deals we think are awesome and that are actually things we love and use.