Favorite thing #2…Stick it to Starbucks (and another giveaway)!
OH MY! This favorite thing was created by my sister and husband who wanted to take the "red cup craziness" and make it into something fun. I think they totally succeeded!  Our first stop on Black Friday shopping morning is Starbucks and I can't wait to stick one of these bad boys to my red cup. You should too! With fun designs like "Festivus for the Rest of Us" or a beautiful Mary and baby Jesus, there is something for everyone!  You can check out all the designs here: Stick it to Starbucks.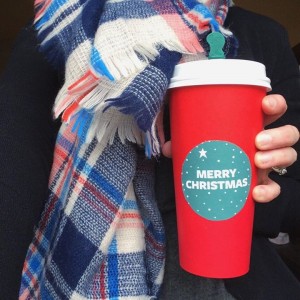 Comment here for a chance to win telling us your favorite design or your favorite Starbucks coffee. Or visit our Facebook page and comment there and share the post for another chance to win. I will draw for a winner at 8:00 tomorrow morning (1/25) so I can get them ordered and hopefully to you for your post Thanksgiving shopping! Seriously, I love my people, they are so fun. Give them some love and share this with the fun people in your life!