Gift Guide for the Teenage Boy (straight from their lips to this list!)
OK, you asked for it, the gift guide for the teenage boy! I asked them, and they delivered. Also how cute are they (please note, the smaller boy contributed to his own gift guide for tweens also coming soon)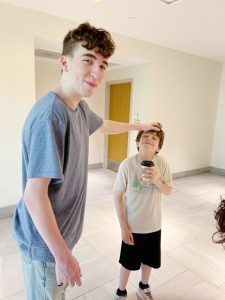 The older boy said these gifts will "spark joy" in any boy either because they are awesome or they are nostalgic or both. For the record the almost 18 year old still picks out a Hot wheel car when he goes to Target and just holds onto them like a little piece of his childhood. He spent years falling asleep holding onto a little metal Lightening McQueens so this should be no surprise.
Pet Pillow: If you have a pet, who wouldn't love a little wonderful memento of that pet to love?

Hoodies: Seriously, they can NEVER have enough!

If you enjoyed this gift guide for the teenage boy, you may also like: Gift Guide for the Teenage Girl
**I am an Amazon Affiliate and make a small amount off of each purchase made through the links. Thank you for your support!