Dreaming of Summer Camp with Name Bubbles
So summer camp is back in full swing all over the land and we are here for it! It is go time for signing up and getting ready and starting to dream of those summer days and our kiddo cannot wait. I was a bit surprised he was so ready to leave us, and for a whole week at that, I'm not sure my heart is ready but his sure is so we are going with it.
What kid wouldn't want to spend a whole week doing all the things in the woods? There will be survival skills, hiking, swimming, boating, canoeing, sleeping out under the stars and I'm guessing a ton of good snacks. Lots of getting to just being himself. I know he will be in great hands and I'm trying to make peace with sending him out into the world to have an adventure even when I cannot control that adventure. If you know me at all you know letting go is just a little bit hard for me.
There is one thing I can control in all this madness and that is helping him not lose his actual stuff. My people are stuff losers. It is a whole thing. I have labels in his winter gear and favorite sweatshirts which have come in handy in particular the multiple times the church has had to call to let me know he left his jacket behind after religion. Sadly, I didn't have one on his fidget that he forgot but thankfully we were able to find it by calling right away and starting a full scale search party.
Following up with camp about gear left behind is going to be even harder than tracking it down after church, so we are leaving nothing to chance. I got the Name Bubble Camp Pack and I am becoming a labeling maniac. Every. Single. Thing. Will. Be. Labeled. Maybe even the kid we will see what we have left over. What I love about the camp pack is that they have everything you need in one group, you just choose the design and they send you the labels you will need. No need to pick out how many iron ons, shoe labels or waterproof labels you need; they have done the research and they have your back. You have the choice between two sizes of packages and you can choose to add on anything extra that you think your kiddo needs as well. Hooray for customization!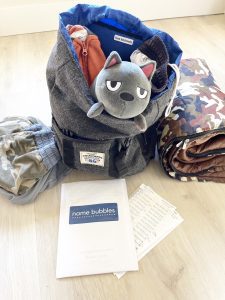 Here's to not having to call camp after he leaves because he has everything he needs (and maybe a stuff animal you snuck in just in case)….and also here's to remembering he is 12 and will for sure forget something and when he does they will be able to match that item to my kid because it has his name and phone number on it. Heck, I guess that means when they find it they will be calling me! Win!
Order your own name bubbles here. The designs are adorable and they even had something for my "nothing fancy" kid who just wanted something plain. They are also designed to be extra durable to handle anything, the labels are washable, sunblock and bug-spray proof! And for your extra sensitive kiddos they are soft and blend into the clothes so they cannot be felt.  Use code HIDINGWITHCOFFEE for 10% off of for your order. You're welcome!
#NameBubblesCampTime #sponsored